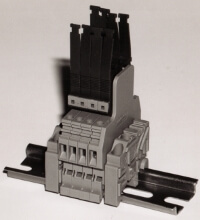 Series EC-100
If current transformers are operated open circuited, extremely high voltages can be generated with resultant damage to equipment and personnel.
Consequently, before removing a load such as a meter or relay the CT should be short circuited.
An easy, efficient and convenient method of doing shorting CTs is through the use of a shorting terminal block which automatically short circuits the instrument transformer when the load is removed.
The WEC-100 series of shorting blocks as supplied by Langford & Associates are assembled from Entrelec components and mounted on a standard DIN rail. These shorting blocks consist of a base element to which the current transformer is wired and a plug element to which the load wired. The base has a pressure plate terminal and the plug has a pin, which is crimped onto the wire.
When the plug is inserted into the base the load is connected to the CT. When it is desired to disconnect the load, the plug is removed and the CT is automatically short circuited before the disconnection is completed.
The units are suitable for up to #12 AWG wire. Marking strips are included for both the plug and base as well as tie wraps for trimming the wire into the plug.
Jumper bars allow ease provide a simple connection if a common point is required.
| Catalogue Number | Connection Method | Rating Price |
| --- | --- | --- |
| WEC 104-12-J | Current Plug (4 pole) 5A 150V | $130.00 |
| WEC 103-12-J | Current Plug (3 pole) 5A 150V | $120.00 |